Explore the benefits of holistic vet medicine for your pets.
Veterinary medicine is improving and changing with new research and discoveries. When knowledge and treatments become available to improve a pet's quality of life, PETSinc wants to be proactive!
Alternative vet medicine rehabilitation and therapies help pets shorten surgical recovery time (and in some cases may even eliminate surgery), osteoarthritic diseases, obesity, injuries, chronic pain, and more…drug-free.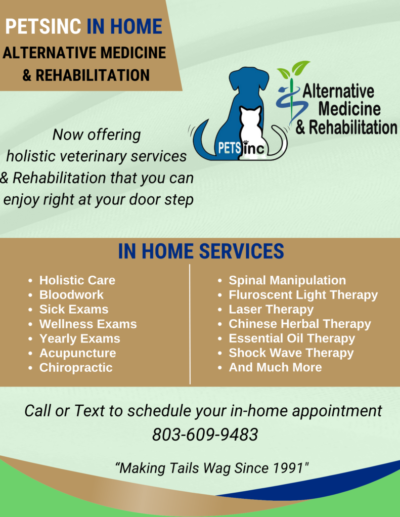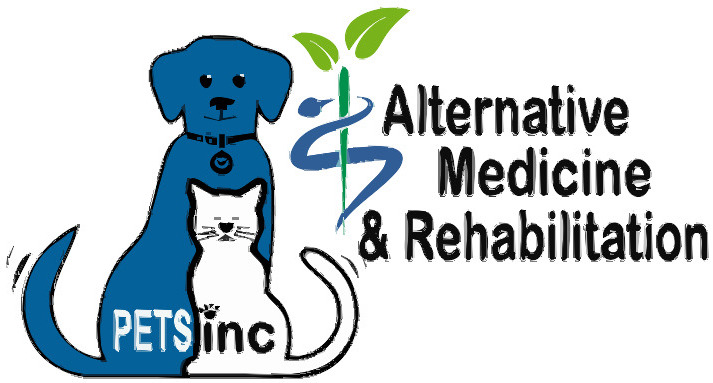 Pet Hydrotherapy
Hydrotherapy uses water to help rehabilitate injuries your dog might have and to also relieve pain. It's especially beneficial for dogs who have conditions such as a torn ACL, hip dysplasia, degenerative joint disease, arthritis, or dogs who have been paralyzed or lost a limb.
Hydrotherapy uses buoyancy, resistance, viscosity, and hydrostatic pressure to help a dog move the injured joints they are trying to rehabilitate. This type of therapy works because, essentially, you provide weightless physical therapy and remove the added pressure of gravity.
Your dog's buoyancy in water reduces the stress on their joints as they try to recover from their condition. This type of therapy is also a natural anti-inflammatory due to its ability to reduce swelling in body tissues.
Pet Laser therapy
Veterinary laser therapy provides a non-invasive, pain-free, surgery-free and drug-free treatment that is used to treat a variety of conditions, and can be performed in conjunction with existing treatments. Laser treatment for dogs employs deep-penetrating light to promote a chain of chemical reactions known as photobiostimulation. This process helps relieve pain through the release of endorphins, and it stimulates injured cells to heal at an accelerated pace.
Laser Therapy can be used to treat a multitude of ailments, including:
Muscle, ligament and tendon injuries
Post-surgical and soft tissue trauma
Back pain
Hot Spots and open wounds
Arthritis / hip dysplasia
Degenerative disc disease
Pet Acupuncture
Acupuncture may be defined as the insertion of needles into specific points on the body to produce a healing response. Each acupuncture point has specific actions when stimulated.
This technique has been used in veterinary practice in China for thousands of years to treat many ailments. The Chinese also use acupuncture as preventative medicine. Acupuncture is used all around the world, either along or in conjunction with Western medicine, to treat a wide variety of conditions in every species of animal.
Clinical research has been conducted showing positive results in the treatment of both animals and humans, and the use of acupuncture is increasing. Acupuncture will not cure every condition, but it can work very well when it is indicated.
Pets who undergo acupuncture may experience:
Decreased inflammation
Improved circulation
Pain relief due to a release of hormones
Relief of muscle spasms
Nerve stimulation
Wyatt has a back treatment with Dr. Newton
Pet Chiropractic
Animal Chiropractic is a field of animal health care that focuses on the preservation and health of the neuro-musculo-skeletal system. Why?
Nerves control everything that happens in your animals. Anything adversely affecting the nervous system will have detrimental effects that will resonate throughout the entire body.
The command centers of the nervous system are the brain and spinal cord which are protected by the spine. The spine is a complex framework of bones (vertebra), ligaments, muscles and nerves. If the movement and biomechanics of the vertebra become dysfunctional, they can interfere with the performance of the nerves that are branching off of the spinal cord and going to all of the muscles and organs. As this occurs, your animal can lose normal mobility, resulting in stiffness, tension, pain and even organ dysfunction.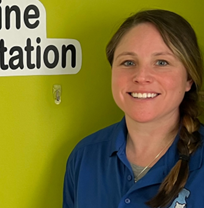 Dr. Dunphy
Acupuncture * Spinal Manipulation
Rehab Chinese Herbs* DVM
Dr. Erica Dunphy was born in Poughkeepsie NY and went to undergrad at University of New England. In 2009, she went to Ross University School of Veterinary Medicine in St. Kitts & Nevis. She attended clinics at LSU and graduated with her DVM in 2013. She started practicing at Banfield in GA for about 2 years. She then moved to Charlotte NC and practiced at an integrative practice for 5 years. This is where she met her husband Shaun and got married in October 2016. Her first daughter Maisie was born November 2017 (5), her 2nd daughter Madeline (3) April 2019 and despite having a full tubal ligation had her 3rd kid; McKendree (almost 2)January 2021. She got Spinal manipulation certified in 2018 with IVMI at the Chi Institute. She recently acquired her certification in veterinary acupuncture (CVA) in Dec 2022. She has 3 dogs at home; Jackson (9), June Bug (3), Groot (1) and a cat Lady Cy (10 months).She is very excited to start at PETSinc and spread the word of the amazing alternative therapies we offer!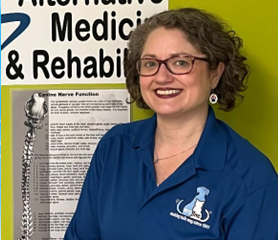 Dr. Gardner
Acupuncture * Spinal Manipulation
Chinese Herbs * DVM
Cara Gardner, DVM, CVA grew up in Knoxville, TN. Where she had a deep love for the mountains, animals and for the Tennessee Volunteers. She knew early in life that she would be a veterinarian and spend her life helping and caring for our animal friends. She completed her undergraduate degree in 1995 through the honors college at Xavier University in Cincinnati, OH where she played club soccer and flag football and spent one summer interning with the keepers at the Cincinnati Zoo. She then earned her veterinary degree from the University of Tennessee College of Veterinary Medicine in 2003. There Dr. Gardner developed strong interests in the areas of dermatology, nutrition, and behavior in dogs and cats. After graduation, she moved to Indianapolis, IN, living and practicing there for several years. It was after starting in general practice that Dr Gardner decided to pursue alternative veterinary medicine to provide a more holistic approach to the treatment and management of her patients. She became a Certified Veterinary Acupuncturist in 2008 through Chi University in Reddick, FL. and in 2012 attended Options for Animals to learn spinal manipulation for dogs and cats (similar to chiropractic medicine in humans). In 2013, Dr. Gardner moved to Columbia, SC and married her husband, Brian.
She enjoys a lot of fun and lightheartedness in her life and with her family: Brian, her son Coen, dogs Squibby (a Boston terrier) and One-eyed Willie (a pug/shih tzu mix) and cat Ralph (a grumpy old man). She loves NCAA and NFL football, movies and spending time laughing with friends.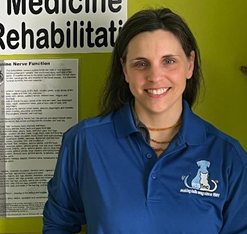 Dr. Newton
Chiropractor
Dr. Katie Newton is one of few in the state, and the only in Columbia, certified in animal chiropractic by the American Veterinary Chiropractic Association. Dr. Newton obtained her Doctorate in Chiropractic from Parker University in 2015, and the AVCA certification in 2016. She has worked with animals for over 15 years. Her experience ranges from dog training, canine hydrotherapy and Doga to volunteering in shelters, working in a vet clinic, and now as a chiropractor for animals. Dr. Newton worked as a veterinary assistance during her time as a chiropractic student. She has had the honor of helping many different animals, including dogs, cats, rabbits, goats, pigs, and horses. She has served the Columbia area going on 4 years. She is Mom to 3, her 1-year-old daughter, 13-year-old dog, and 16-year-old cat. Dr. Newton chose chiropractic to help improve the lives of pets and their people by helping them feel and function better.
REQUEST ALTERNATIVE MEDICINE APPOINTMENT
Sign up for the PETSinc newsletter
Sign up for our monthly newsletter to hear the latest success stories, veterinary updates, and hear about our available pets.
Wonderful Memories
I remember my husband surprising me and our kids when he pulled into the parking lot of PETSinc. I had no idea we would be adding a new member to our family that day. Turned out to be the best "New Years resolution" I ever made.
Moto grew up to be my husband's best long distance running partner, my son's and daughter's very best friend, and our family's #1 protector. If he wasn't out running the critters away, you'd be sure to find him snuggled under the covers! Moto was my heart and soul dog, and my family is so thankful we had a little over 12 years of wonderful memories with him!
Moto's Mom
A Sweet Lap Cat
I came to PETSinc on a Saturday with my two friends and quickly found there were a bunch of kittens ready for adoption. But then, my friend shouted from across the room, "What about this one?" He was older and bigger, and the only one who had a name tag and characteristics listed on his pen: sweet male kitten, very affectionate, lap cat.
When I took him out of his cage and picked him up, he purred so loud, and that was it. I'm now in Charleston, married, and Oliver just celebrated his 15th birthday. He never stopped being a sweet lap cat like his description read all those years ago. I couldn't have been more happy I adopted him that day.
Oliver's Mom