Thrift Store
You'll never save a bundle as cute anywhere else!
Through our store, thousands of families have helped to support our rescues and save a bundle doing so by shopping at our very own thrift store. Everything is clean and in good condition. You will find bargains on every shelf and every rack. And now that we have expanded, we will be offering more furniture.
Donate Items You No Longer Need
Thousands of families have helped to support our rescues by donating items they no longer need. Often these are brand new, some are slightly used, and others are vintage; but everything is clean and in good condition. Drop off times are only from 9am – 4pm.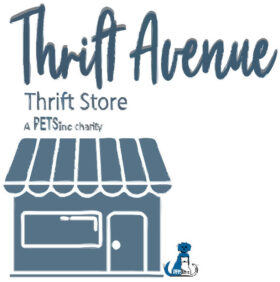 Clothing
Housewares
Shoes, Belts, & Purses
Scarves & Hats
Jewelry
Furniture
Books & Games
Toys
Sports Equipment
Crafter's Items
Pet Supplies
Appliances
Records & Tapes
Musical Instruments
Knick-Knacks
Sign up for the PETSinc newsletter
Sign up for our monthly newsletter to hear the latest success stories, veterinary updates, and hear about our available pets.
Wonderful Memories
I remember my husband surprising me and our kids when he pulled into the parking lot of PETSinc. I had no idea we would be adding a new member to our family that day. Turned out to be the best "New Years resolution" I ever made.
Moto grew up to be my husband's best long distance running partner, my son's and daughter's very best friend, and our family's #1 protector. If he wasn't out running the critters away, you'd be sure to find him snuggled under the covers! Moto was my heart and soul dog, and my family is so thankful we had a little over 12 years of wonderful memories with him!
Moto's Mom
A Sweet Lap Cat
I came to PETSinc on a Saturday with my two friends and quickly found there were a bunch of kittens ready for adoption. But then, my friend shouted from across the room, "What about this one?" He was older and bigger, and the only one who had a name tag and characteristics listed on his pen: sweet male kitten, very affectionate, lap cat.
When I took him out of his cage and picked him up, he purred so loud, and that was it. I'm now in Charleston, married, and Oliver just celebrated his 15th birthday. He never stopped being a sweet lap cat like his description read all those years ago. I couldn't have been more happy I adopted him that day.
Oliver's Mom